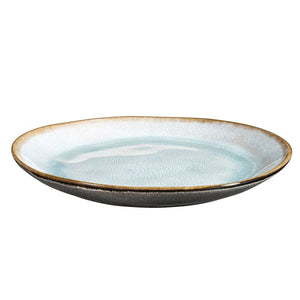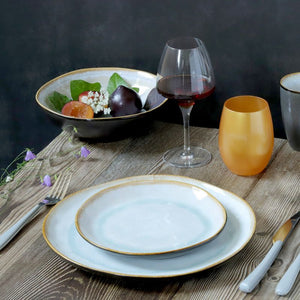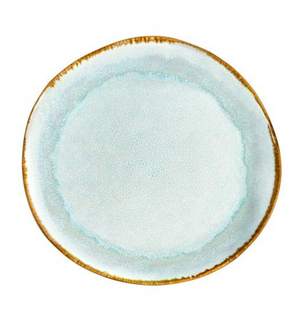 SET OF 6 DINNER PLATES - SHADOW AQUA
DESCRIPTION
Collection : Shadow Aqua
Decor : Glazed reactive stoneware
Size :  : ø 28cm
Matter : Sandstone
Box of 6 dinner plates
SHADOW AQUA COLLECTION BY MÉDARD DE NOBLAT 
Shadow Aqua is a luminous collection in glazed reactive stoneware with an irregular curve. A handcrafted touch that creates a remarkable table of warmth and conviviality.

The organic shapes, material effects and pearlescent colour nuances created during the firing of the reactive glazes reveal unique pieces. The anthracite grey grained exterior underlines the elegance and delicacy of the pearly interior and creates an invigorating contrast.

Originally from Limoges, Médard de Noblat has been perpetuating its know-how and tradition of quality since 1836. Our porcelain creates a contemporary and refined universe, between rigor and exuberance, for an extraordinary daily life.
SET DE 6 ASSIETTES À DESSERT - SHADOW AQUA
DESCRIPTIF
Collection : Shadow Aqua
Décoration : Grès réactif émaillé
Dimensions : ø 28  cm
Matière : Grès
Boite contenant 6 assiettes plates
COLLECTION SHADOW AQUA DE MÉDARD DE NOBLAT
Shadow Aqua est une collection lumineuse en grès réactif émaillé, à l'arrondi irrégulier. Une touche artisanale qui crée une table remarquable de chaleur et de convivialité.

Les formes organiques, les effets de matières et les nuances de coloris nacrées crées lors de la cuisson des émaux réactifs dévoilent des pièces uniques. L'extérieur grainé de gris anthracite souligne l'élégance et la délicatesse de l'intérieur nacré et crée un contraste vivifiant.

Originaire de Limoges, Médard de Noblat perpétue un savoir-faire et une tradition de qualité depuis 1836. Nos porcelaines créent des univers actuels et raffinés, entre rigueur et exubérance, pour un quotidien hors norme.