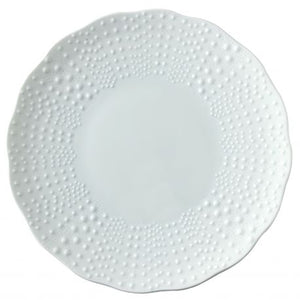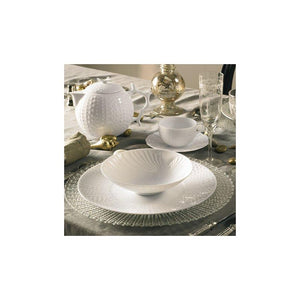 SET OF 3 CHARGER PLATES - CORAL WHITE
DESCRIPTION
Collection : CORAL WHITE
Decor : White enamel and beaded reliefs
Size : 

 :

ø 31.5cm
Matter : Limoges porcelain
Box of 3 charger plates
CORAL WHITE COLLECTION BY MÉDARD DE NOBLAT
The Coral White collection is designed for a light table. It is made of fine white glazed porcelain, engraved in relief on a round shape with a wing. Deliciously classic, terribly timeless, and furiously trendy.
The richness of the oceanic-inspired decoration invites you to travel. Exuberant and baroque: your table takes to the sea and stands out.
Médard de Noblat, from Limoges, has been perpetuating its know-how and quality tradition since 1836. Designed down to the smallest detail, each decoration on our porcelain tells a story with an elegance, freshness and femininity that characterize the brand's style.
SET DE 3 ASSIETTES DE PRESENTATION - CORAIL BLANC
DESCRIPTIF
Collection : CORAIL BLANC
Décoration : Email blanc et reliefs billes
Dimensions : ø 31.5cm
Matière : Porcelaine de Limoges
Boite contenant 3 assiettes de présentation
COLLECTION CORAIL BLANC PAR MÉDARD DE NOBLAT
La collection Corail Blanc se destine à une table lumineuse. Elle est en porcelaine fine émaillée blanche, gravée en relief sur une forme ronde avec aile. Délicieusement classique, terriblement intemporelle, furieusement tendance.

La richesse du décor d'inspiration oécanique vous invite au voyage. Exubérante et baroque : votre table prend le large et se distingue.

Originaire de Limoges, Médard de Noblat perpétue un savoir-faire et une tradition de qualité depuis 1836. Pensé dans les moindres détails, chaque décor de nos porcelaines nous conte une histoire avec une élégance, une fraicheur et une féminité qui caractérisent le style de la marque.