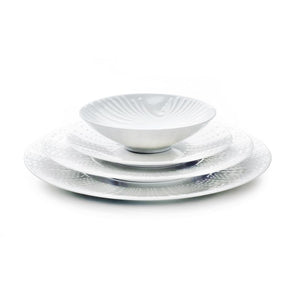 SET OF 6 DESSERT PLATES – SANIA BRILLANT
DESCRIPTION
Collection : SANIA BRILLANT
Decor : White enamel and beaded reliefs
Size : 

 :

ø 21.5cm
Matter : Limoges porcelain
Box of 6 dessert plates
SANIA BRILLANT COLLECTION BY MÉDARD DE NOBLAT
The Sania White collection is designed for a timeless and luminous high end table. It is made of fine white glazed porcelain, engraved in relief on a round shape with a wing. Different engravings are mixed to give the set life and modernity.
The richness of the decoration, inspired by nature, includes the relief of sea urchins and shells, the beads of which differ according to the piece.
Médard de Noblat, from Limoges, has been perpetuating its know-how and tradition of quality since 1836. The shapes, with their fine and elegant lines, give off a personalized touch, creating expressive tables with a strong seductive power. The decorations are as precise as they are stylish, dressing up the porcelain to sublimate it.
SET DE 6 ASSIETTES A DESSERT - SANIA BRILLANT
DESCRIPTIF
Collection : SANIA BRILLANT
Décoration : Email blanc et reliefs billes
Dimensions : ø 21.5cm
Matière : Porcelaine de Limoges
Boite contenant 6 assiettes à dessert
COLLECTION SANIA BRILLANT PAR MÉDARD DE NOBLAT
La collection Sania Blanc se destine à une table haut de gamme, intemporelle et lumineuse. Elle est en porcelaine fine émaillée blanche, gravée en relief sur une forme ronde avec aile. Différentes gravures se mixent pour donner à l'ensemble vie et modernité.

La richesse du décor inspiré de la nature reprend les reliefs d'oursins et de coquillages dont les billes diffèrent selon les pièces.

Originaire de Limoges, Médard de Noblat perpétue un savoir-faire et une tradition de qualité depuis 1836. Les formes, aux lignes fines et élégantes dégagent une personnalisé créant des tables expressives au fort pouvoir de séduction. Aussi précis que stylés, les décors habillent les porcelaines pour les sublimer.