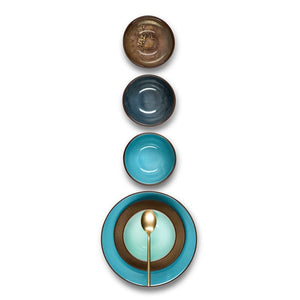 SET OF 6 SALAD AND PASTA PLATES - FEELING TURQUOISE
DESCRIPTION
Collection : Feeling Turquoise
Decor : Glazed reactive stoneware
Size :

 ø 18 cm / height 5.5 cm

Matter : Sandstone
Box of 6 plates
TURQUOISE FEELING COLLECTION BY MÉDARD DE NOBLAT
 Inspired by nature and based on a simple and pure bowl shape, Feeling is a superb collection of glazed reactive stoneware.
The interior and exterior of the pieces are dressed in an elegant turquoise colour with a fine chocolate border. This line dresses the turquoise range tone on tone with elegance. When fired, the delicate reactive glazes react to the heat to produce pieces with unique tones.
Originally from Limoges, Médard de Noblat has been perpetuating its know-how and tradition of quality since 1836. Our porcelain creates a contemporary and refined universe, between rigor and exuberance, for an extraordinary daily life.
SET DE 6 ASSIETTES SALADE & PATES - FEELING TURQUOISE
DESCRIPTIF
Collection : Feeling Turquoise
Décoration : Grès réactif émaillé
Dimensions : ø 18 cm / hauteur 5.5 cm
Matière : Grès
Boite contenant 6 assiettes
COLLECTION TURQUOISE FEELING DE MÉDARD DE NOBLAT
D'inspiration naturelle et sur une base de forme coupe simple et pure, Feeling est une superbe collection de grès réactif émaillé. 

L'intérieur et l'extérieur des pièces est habillé d'un élégant coloris turquoise réhaussé d'une fine bordure chocolat. Ce trait habille la gamme turquoise ton sur ton avec élégance. Lors de la cuisson, les délicats émaux réactifs réagissent à la chaleur pour sortir des pièces aux tonalités uniques.

Originaire de Limoges, Médard de Noblat perpétue un savoir-faire et une tradition de qualité depuis 1836. Nos porcelaines créent des univers actuels et raffinés, entre rigueur et exubérance, pour un quotidien hors norme.