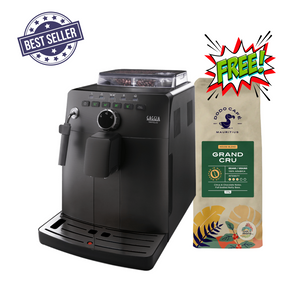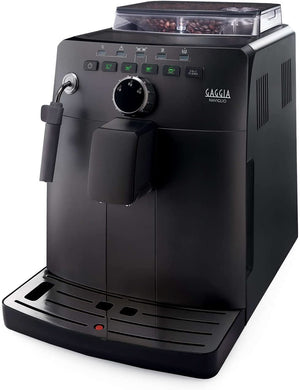 SPECIAL OFFER: 1 coffee machine bought = 1 free coffee bag.
The Gaggia Naviglio is a semi-automatic coffee machine which allows you to have Espresso, Long Coffee or even Cappuccino with a cappuccinator connected with the machine. 
Often asked questions:
What is the difference between a superautomatic and a manual espresso machine?
If you prefer to obtain excellent results in a fast way, a superautomatic machine is what suits you the best. Equipped with a patented brew group, makes espresso, cappuccino and other hot beverages just by pressing a button, that can be customized as you prefer in a few easy steps. Moreover, the integrated 100% ceramic grinders let you have freshly ground coffee at every use and preserve all the aromas. While, if you like to relive the barista rituals at home, a manual machine is the right choice. Learning how to make an impeccable espresso requires care and practice, but it is definitely worth it.
Maintenance: 
Why does my espresso machine automatically start a rinsing cycle?


This automatic rinsing cycle – that happens when the machine is switched on or goes in stand-by mode – is necessary to keep the circuits always clean and to heat the coffee circuit to guarantee an extraordinary result from the first use.

When do I have to descale my machine?


Scale is a normal consequence of using the machine, and it depends also on the quality of the water you use. It is necessary to descale the machine when the display alerts you to proceed. We suggest you call us to book a descaling

Which components are removable and washable?


Drip tray, drip tray plate, coffee pucks container, water tank, pannarello, cappuccinatore, CappinCup and milk carafe are removable and should be washed under tap water, with a bit of dish soap, but no abrasive substances nor solvents. The removable brew group must be washed with no soaps. The drip tray plate can be washed also in the dishwasher.